About Dr. Bahat
Dr. Oded Bahat is considered one of the best dental implant, reconstruction and esthetic surgeons in the world—the go-to doctor for patients with the most difficult cases.
With a primary practice in Beverly Hills, California, Dr. Bahat focuses on periodontics, surgical implant placement, esthetic plastic and reconstructive procedures. He also performs operations several times a year in Europe.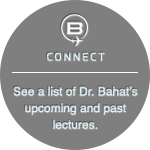 Oded Bahat, BDS, MSD, FACD
Dr. Bahat received his BDS from the University of the Witwatersrand School of Medicine and Dentistry in South Africa in 1977. He earned a specialist certificate in periodontics and an MSD from the University of Washington in 1981. From 1983 to 1987 he was Chairman and Director of Post Doctorate Periodontics at the University of Southern California's School of Dentistry. Dr. Bahat is one of the few dental surgeons who combine a private practice with scientific research and a teaching career.
He has published over 50 scientific articles, and edits textbook articles used to educate clinicians in surgical and esthetic reconstructive techniques. His writings and lectures have been translated into German, French, Italian and Japanese, and he is in high demand as a keynote speaker at international symposia.
Dr. Bahat is also a diplomate of the American Board of Periodontology and a fellow of the American College of Dentistry. He is on the review board of the International Journal of Oral and Maxillofacial Implants and Clinical Implant Dentistry and Related Research. His reputation as an expert specialist attracts clinicians from around the world to observe his work and train with him.
Dr. Bahat's Honors and Awards
Awards
1994 Fellow – American College of Dentistry (FAGD)

1986 Diplomate – American Board of Periodontology

1977 Rousseau Viljoen Memorial Prize in Oral Medicine

1977 African Oxygen Bronze Medal

1973 Academic Scholarship, University of Witwatersrand
Professional Associations
Diplomate of the American Board of Periodontology

Specialist in Periodontics – UK

Western Dental Society
Board Certification and Licensure
---
For a copy of Dr. Bahat's full CV, please .